Campsites & Cabins
We have 100 hook-up locations with electric and water. Some weekends do book up faster than others, so please call ahead to reserve your space.
There is an On-site dump station at no charge.
We have 3 cabins available for rent. Each cabin is furnished with bed(s), ceiling fan, mini-fridge with separate freezer compartment, microwave, a/c, heater. Bring your own linens.
Cabins 1 & 3 have 2 twin beds. Cabin 2 has a queen bed.
Coming in 2022. Then Bunkhouse Cabin will be available for rent. It will have a Twin over Twin bunkbed, and a Full over Full Bunkbed. It also has mini-fridge, microwave, a/c, and heater. Bring your own linens.
We do NOT have coffee pots in the cabins, however we normally always have a pot on at the Club House.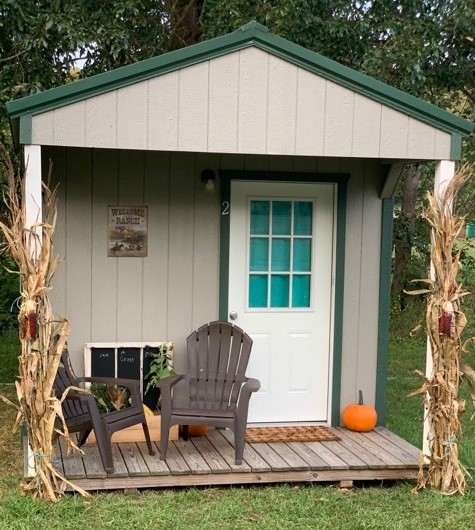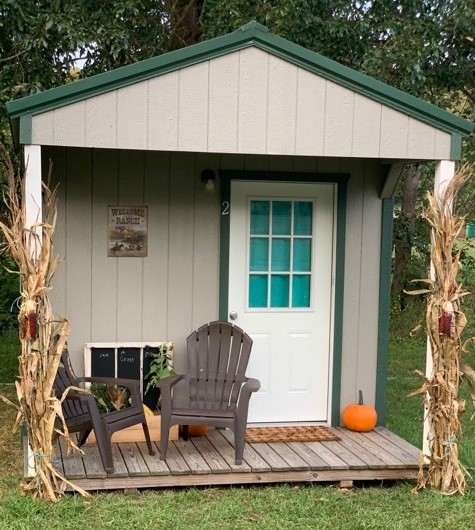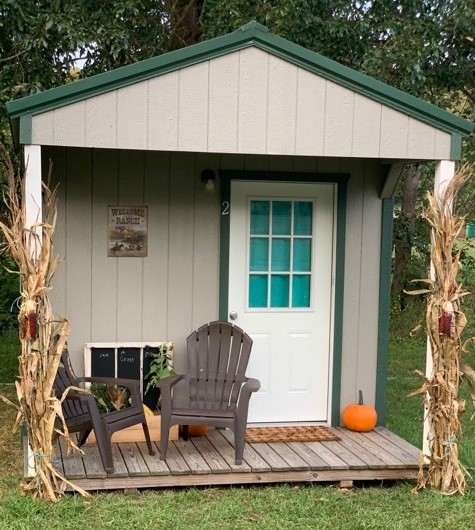 Stalls
The stall dividers go all the way to the top to prevent busy noses from reaching over. The dividers are heavy duty "screens," which provide ventilation, visibility, and security. We have 176 covered stalls and 24 open pens for a total of 200 stalls. As with the camping areas, we suggest reserving stalls in advance, particularly if you'd like to be in a certain area.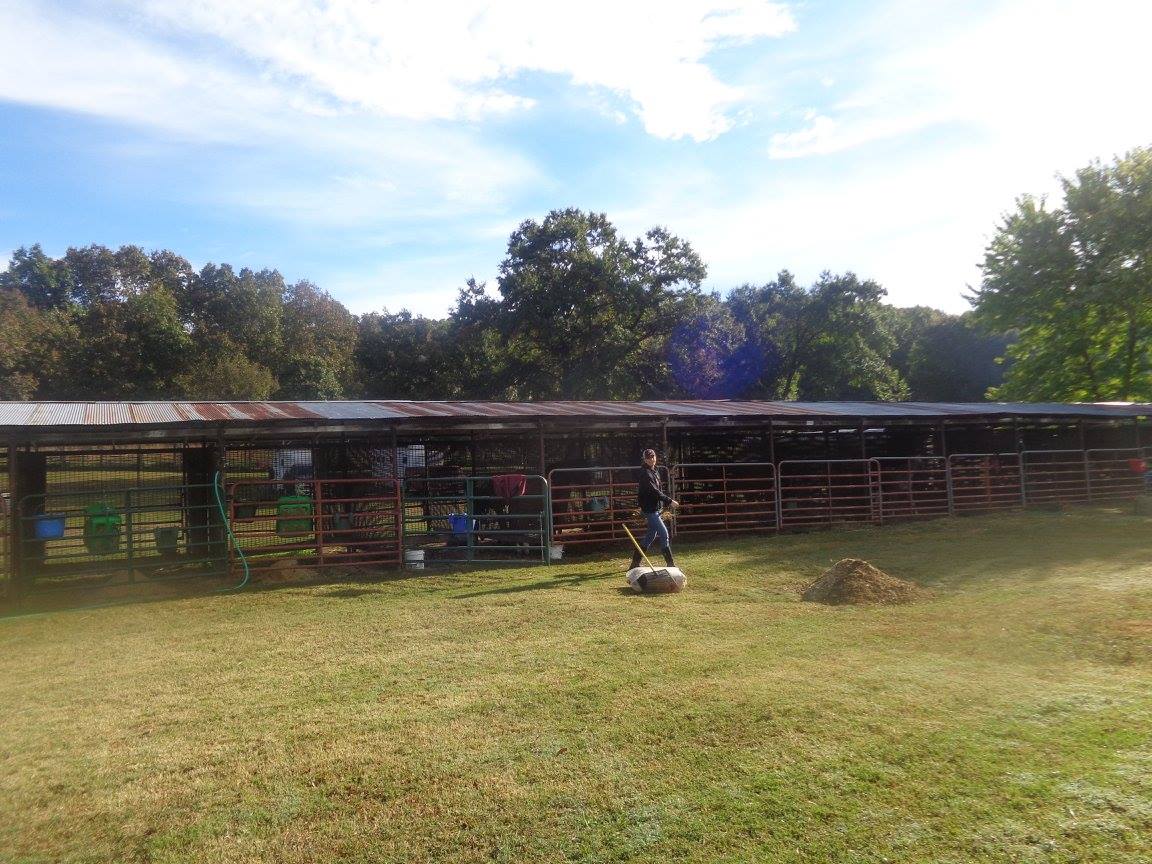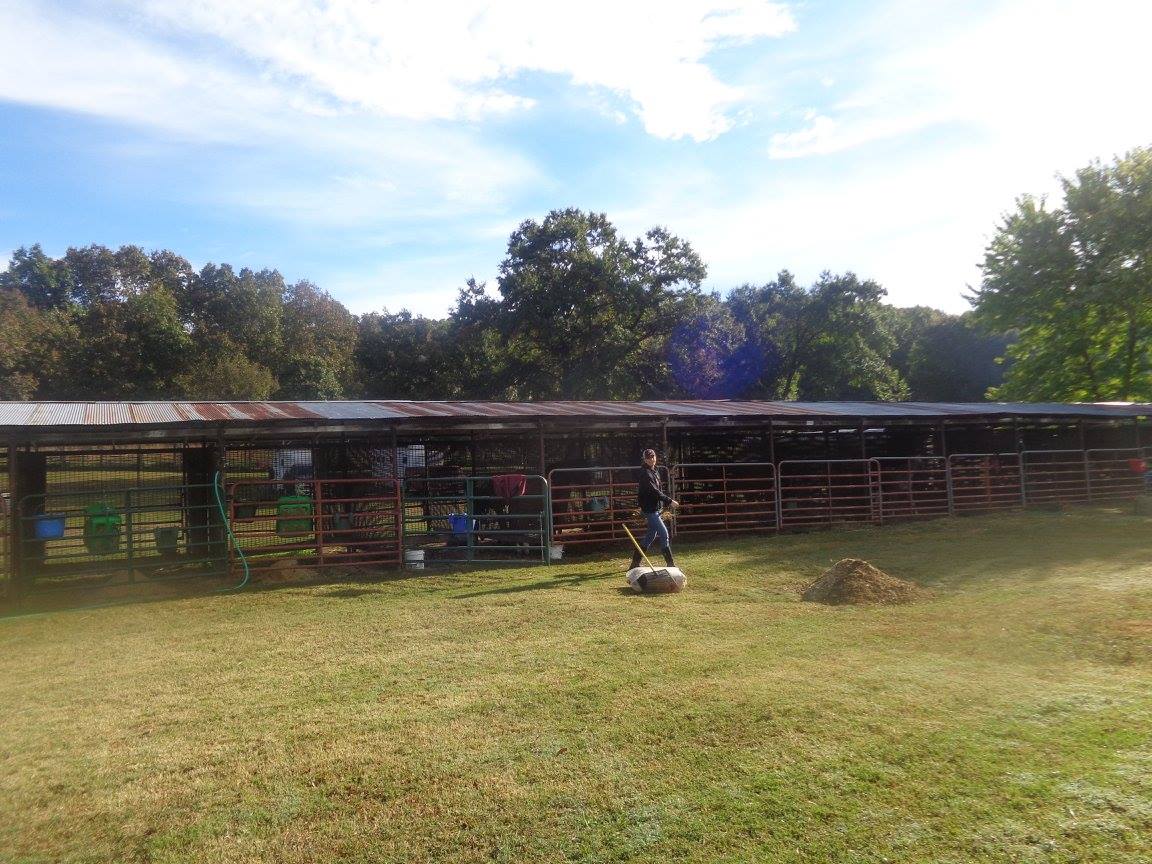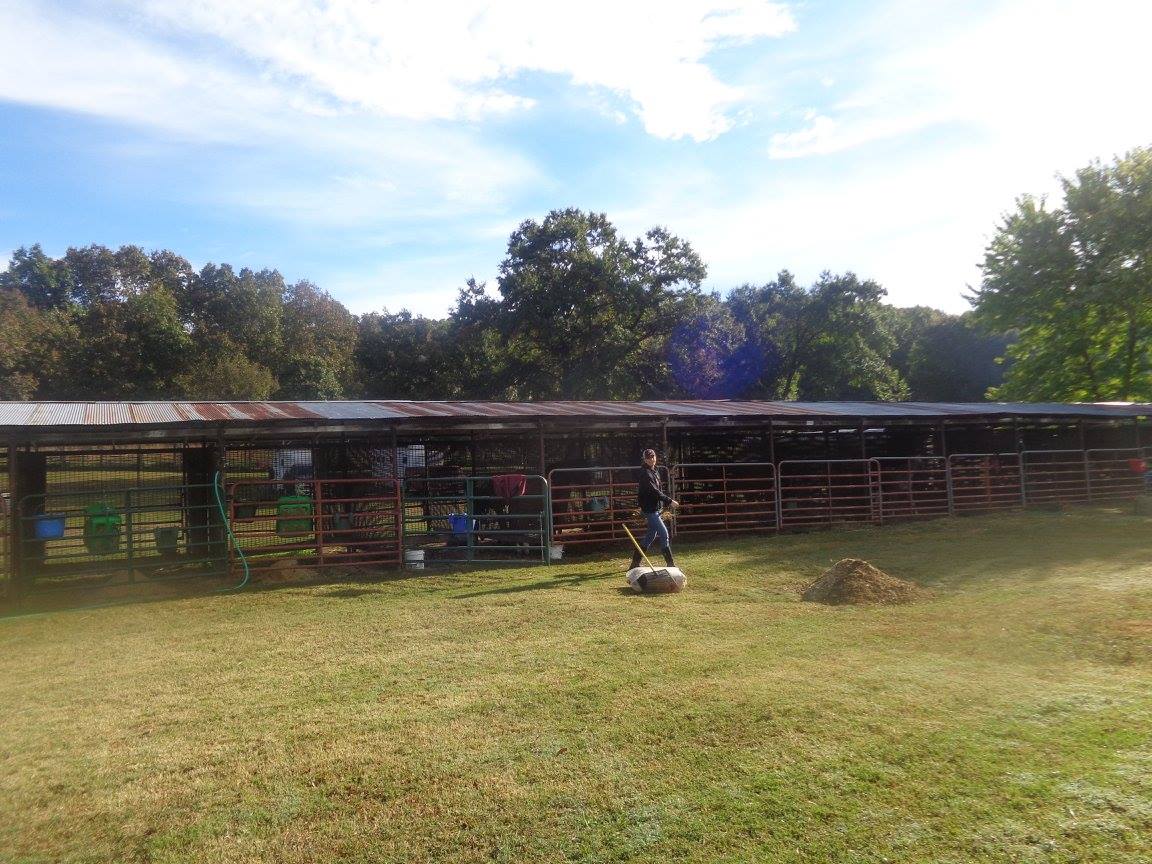 Shower House
We have spacious & modern bathroom and shower facilities. One for the Cowboys and one for the Cowgirls. This means plenty of room to clean up after a long day in the saddle! The cowgirls side is air-conditioned. You will also find a few porta potties conveniently located around camp.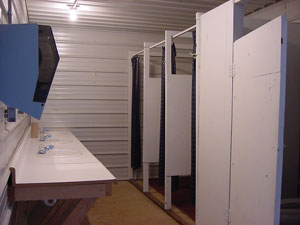 Arena & Round Pen
We have an approx 120 x 150 arena. There in the arena, you will find some trail obstacles to challenge even the most seasoned trail mounts. It is also used for events such as the MidWest MuleFest, and the Rouge & Rogue Retreat. You are also welcome to use our 30 ft and our 50ft round pens as available.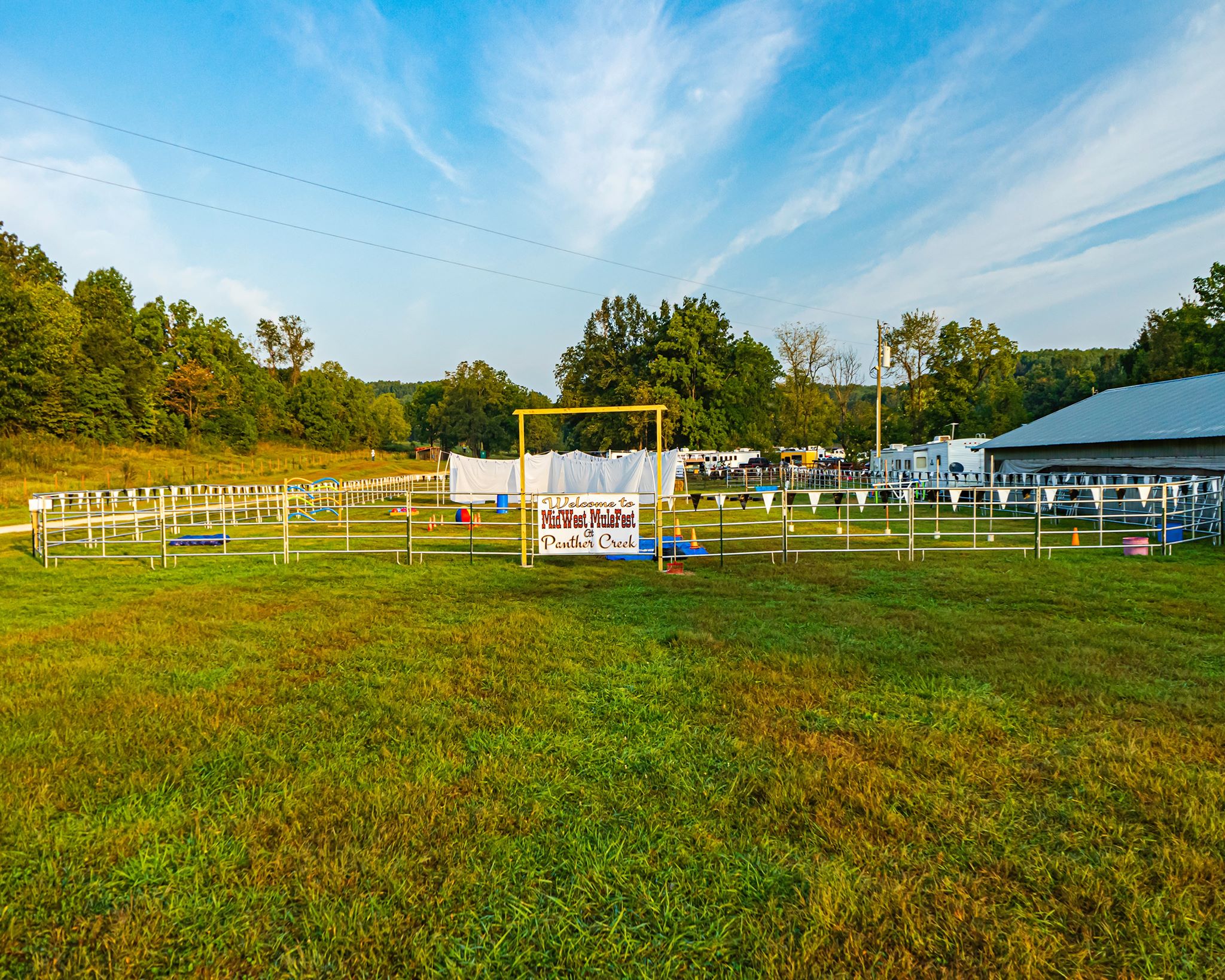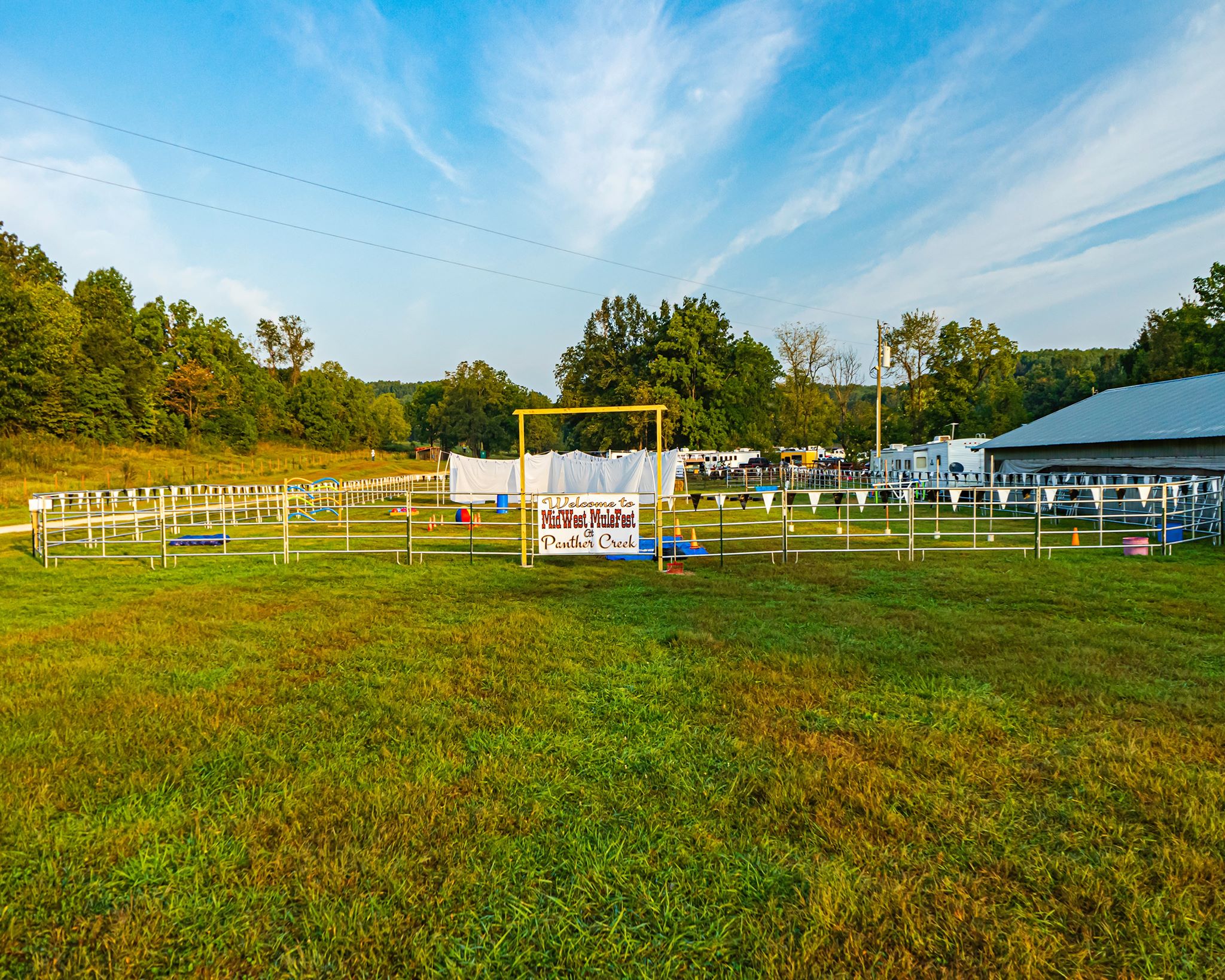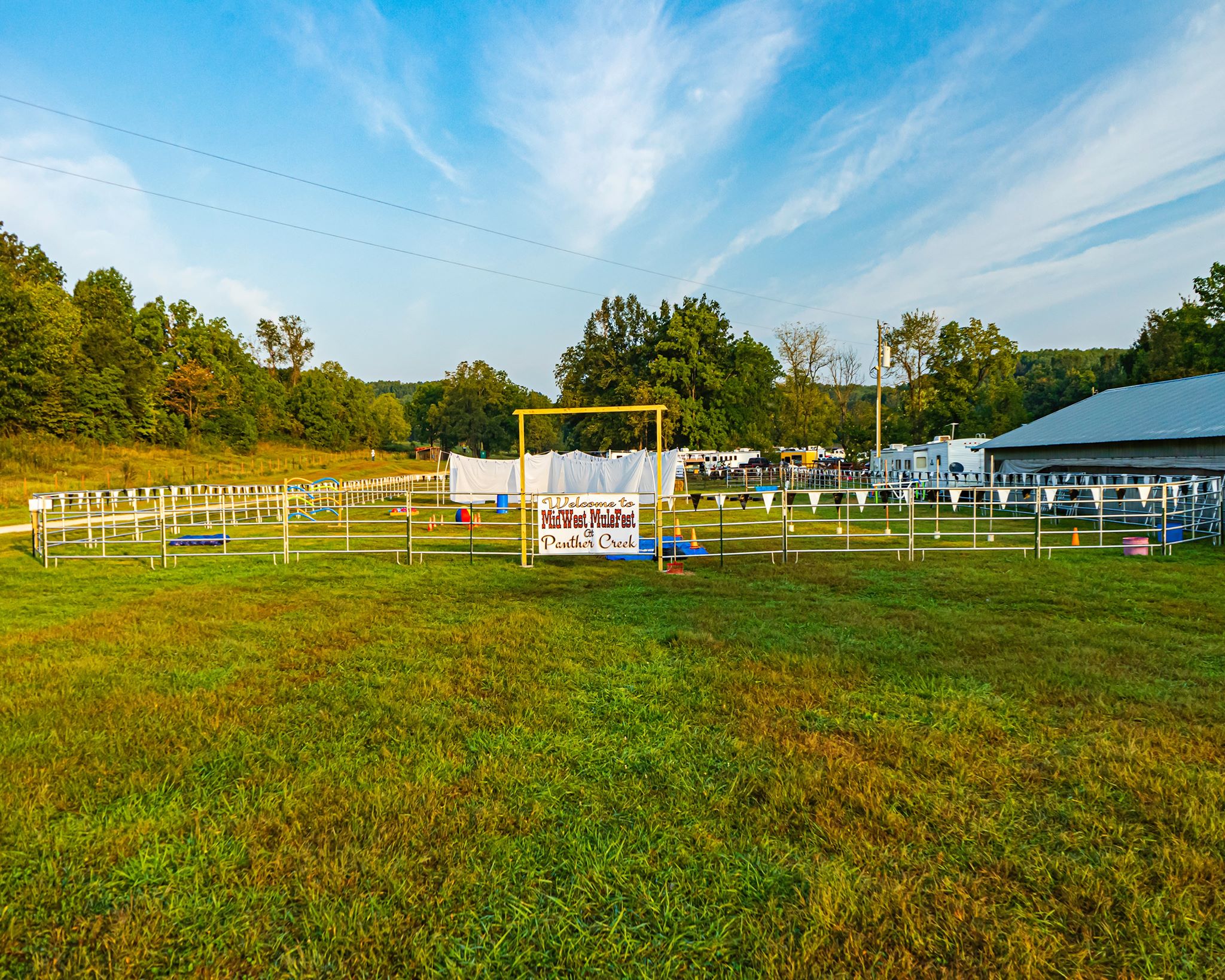 Club House
Our 4500 sq. ft. club house is used for special events, such as our Halloween festivities. It is also available for rent for your wedding, family reunion, educational conference, or other event.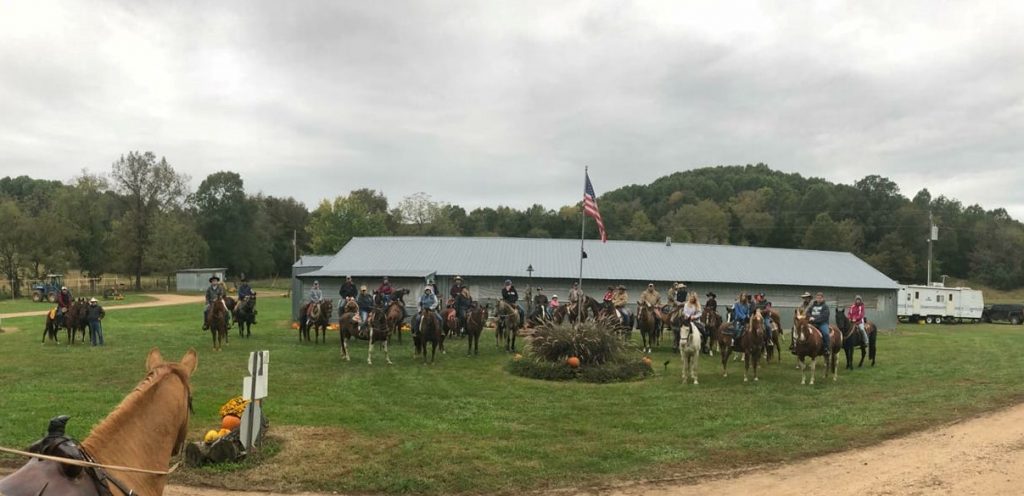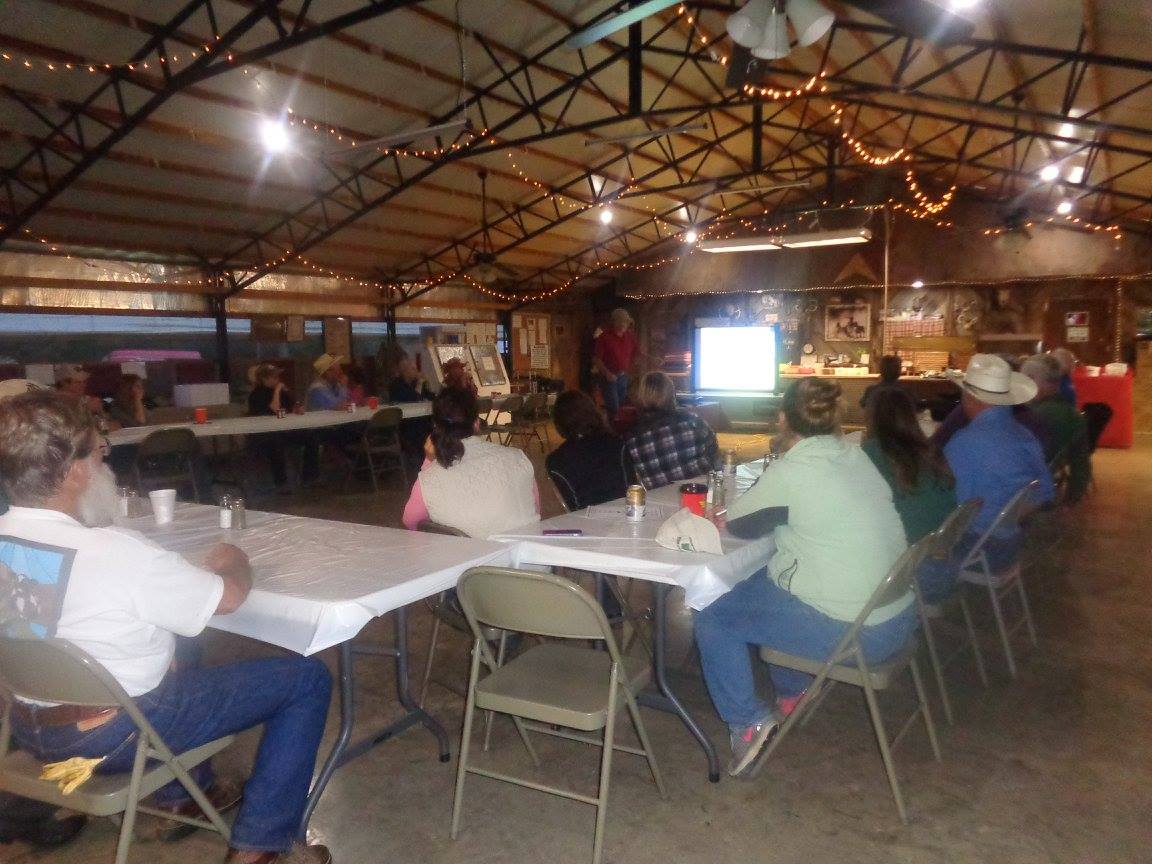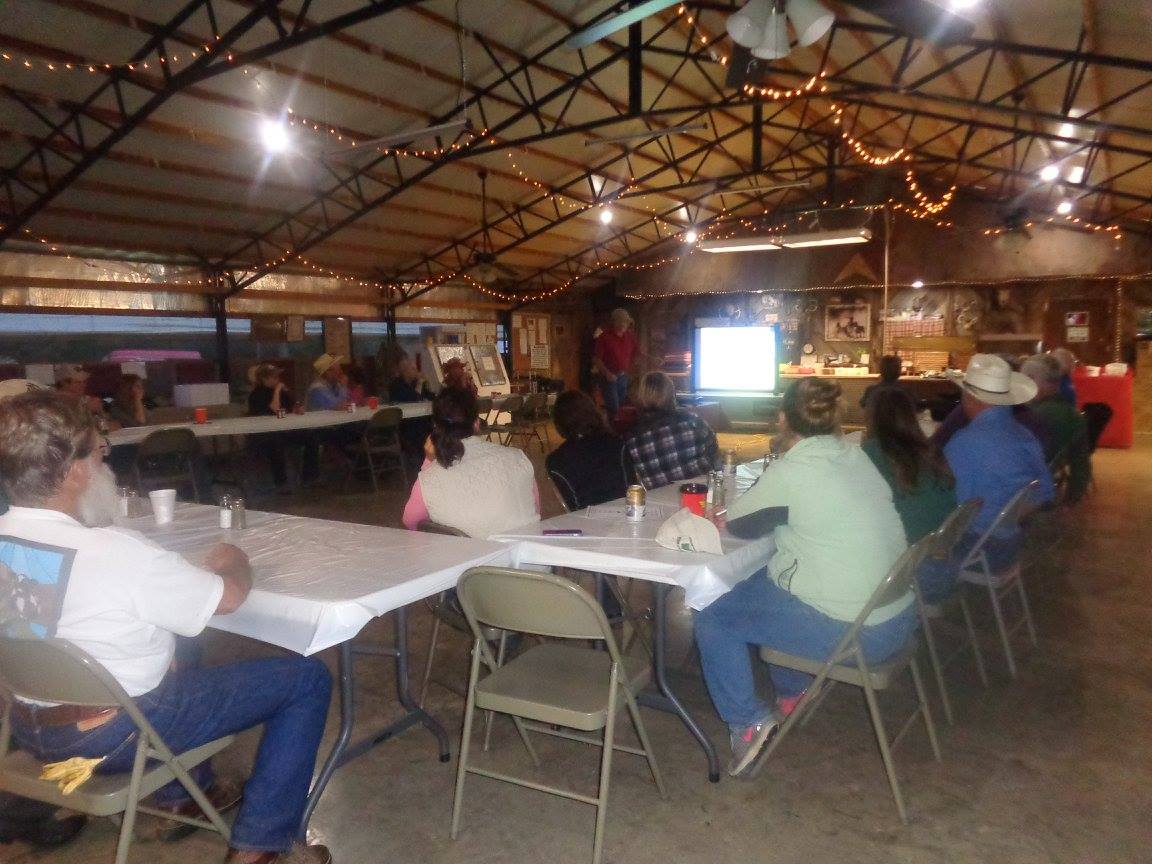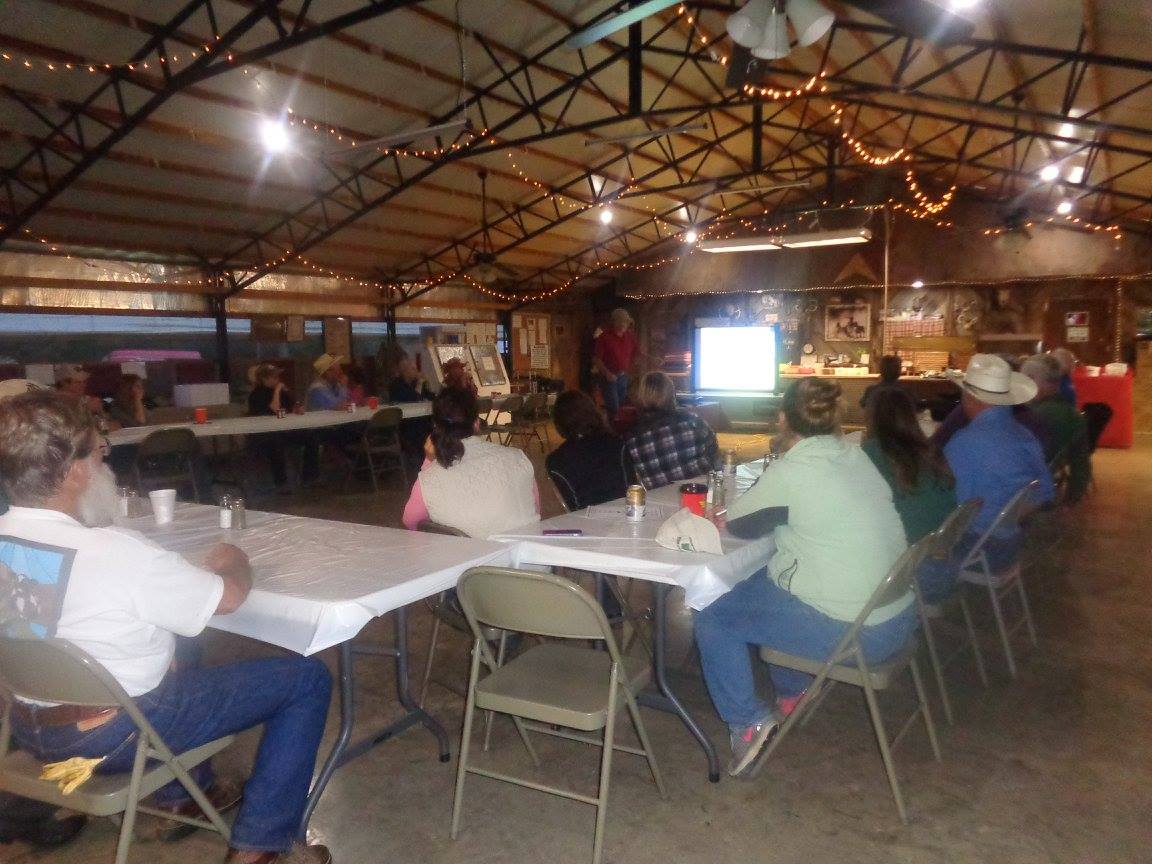 General Store
In case you forget something at home or just don't want to haul it, we do keep a few of the basic items on hand. Things like campfire wood, ice, shavings, and hay (check ahead of time for availability) We also have a small C-store with a variety of items that might come in handy. Be sure to check out our T-Shirts and other souvenirs while you are here. We appreciate your support of Panther Creek by shopping with us.
White Horse Trading Post also has a Tack Shop on location in the Dining Hall. You can always find some good deals at the Tack Shop.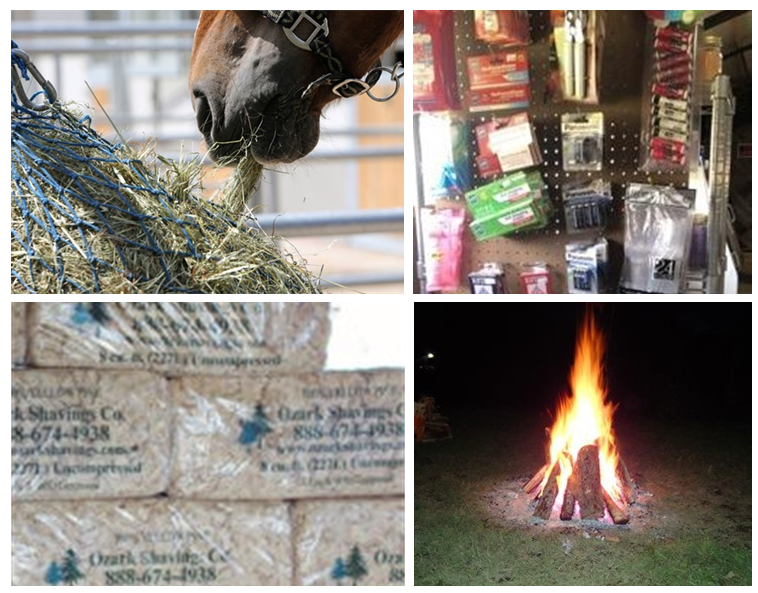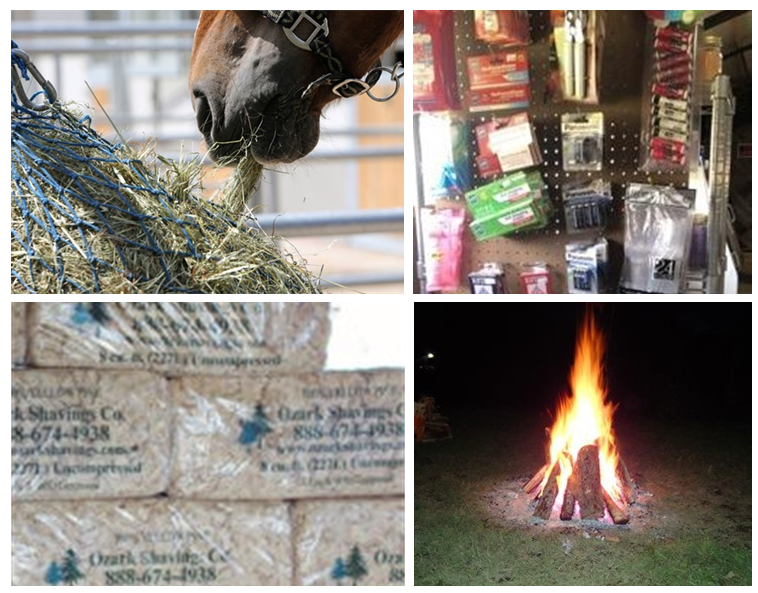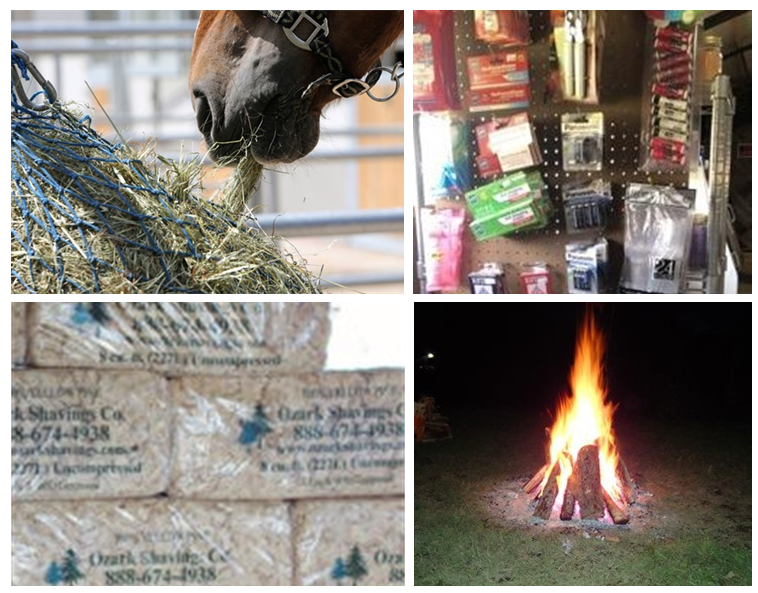 Rates
Day Rider - All Ages
Daily Rate

All ages

$10.00

per person
Be sure to inquire about our Day Ride Punch Card
Scheduled Ride Fees
Daily Rate

Adult (in Camp Site)*

(ages 13 and up)

$35.00

per person

Child 6-12*

(ages 6-12)

$17.00

per person

5 and Under*

(ages 5 and below)

Free

Cabin*

Inquire at the Office

Additional Fees apply to the Cabins

* Scheduled Ride fees are PER PERSON and include Breakfast and Dinner. These include Dogwood Ride, Memorial Day Ride, Labor Day Ride, and Fall Foliage Ride

Stalls are available (and required usage) at a discounted fee of $20.00 per stall for your entire stay during a scheduled ride. Most stalls are covered, however open stalls are available at the same price if no covered stalls are available.

Stalls do book up also. Therefore, please call ahead to check availability if you need an extra stall not previously reserved.

On-site dump station is available at no charge.

Please note: In order to secure a campsite and necessary stalls, please call ahead to check availability. A $25.00 deposit is required to hold campsites and stalls (send to the address shown in the top right corner of this page). We will hold your requested site and stalls up to 2 weeks after you call; UPON RECEIVING YOUR DEPOSIT, your spaces will be secured. The deposit will be applied to the total fee, or you may roll it over to reserve your site/stalls for that same scheduled ride the following year. A WAIVER MUST BE SIGNED BY EVERY INDIVIDUAL AT THE OFFICE BEFORE ENTERING THE CAMPGROUND. FOR ANY OR ALL RIDING OR JUST BEING ON THE GROUNDS. To receive a refund of your deposit a 30 day notice prior to scheduled ride in required.
Campsites
Daily Rate

Primitive

(up to 2 ppl)

$15.00

per site

Electric & Water Hookup

(up to 2 ppl)

$25.00

per site

Additional people

(Any age)

$5.00

per person

The ranch is available for camping and riding throughout the trail riding season. Please call or message ahead of time to check availability. There is a deposit of $25.00 per campsite. When you arrive we will apply that to the final fee.

$7 per stall per day up to 3 days.

$20 max per stall if staying 3 or more days.

On-site dump station is available at no charge.
Type
Rate

Rider

Includes camping in a camp site and 1 stall per rider. Additional stalls are available for an extra charge. Also included 3 meals on Friday & Saturday. Breakfast on Sunday

$210.00

per person

Non-Rider

Includes 3 meals on Friday & Saturday. Breakfast on Sunday

$110.00

per person

If you want to bring a horse just to ride and not be involved with the cattle activities, you will still be charged the "riders" price.

Cabin*

Inquire at the Office

Additional Fees apply to the Cabins
Event
Rate

Rouge & Rogue Retreat

Women's only retreat. 1st weekend in October

Coming Soon

per person

MidWest MuleFest

Long-Ear friends. 3rd week/weekend of September

Overnight Camping Rates apply. Meal package will be available from Friday - Sunday

per person
Deposits, transfers, refunds policy and fees
$25 deposit is required for the next year if you want same site and stalls for scheduled rides. Reservations for the next year will stay open for one week after scheduled ride. If you don't contact us within the one week, your site and stalls will be opened for anyone. If you want you same site and stalls, we advise you make your reservation before you leave on the last day of your scheduled ride.
If we haven't received your deposit two weeks prior to scheduled ride, your campsite comes open for someone else. No exceptions.
Refunds only granted if cancelled one (1) month in advance of scheduled ride. No exceptions.
No transfer from one (1) month to the next month within the same year.
No transferring to someone else.
You can roll over a deposit to the next year if you give one (1) month notice.
Rules
Every visitor of the Ranch – riders and non-riders, campers and non-campers – must stop at the office and register/sign waiver. Anyone on the property w/o registering is considered trespassing.
We reserve the right to refuse any reservation.
Negative coggins test within 12 months required on all mounts.
No rough-riding or racing in camp.
No stallions without advanced permission.
Mounts that kick or are extremely aggressive, must wear red tail ribbons at all times.
Clean stalls out when leaving. Discard shavings and hay in designated areas. We do provide a Finally Clean-Out for extra fee. Inquire at the office.
Not responsible for injury or accidents to riders or mounts.
All camps to be quiet by midnight (no loud music or noises).
Dogs allowed in camp only. MUST BE ON LEASH.
No ATV's, motorcycles, or bicycles allowed.
We have 4000 acres to enjoy. Please abide by the "No Trespassing" signs.
All persons who attend this campground do so at their own risk. All are advised of MO Senate Bill 457 and the following: WARNING UNDER MISSOURI LAW, AN EQUINE PROFESSIONAL IS NOT LIABLE FOR AN INJURY TO OR THE DEATH OF A PARTICIPANT IN EQUINE ACTIVITIES RESULTING FROM THE INHERENT RISKS OF EQUINE ACTIVITIES PURSUANT TO THE REVISED STATUTES OF MISSOURI. Panther Creek Trail Rides & Campground, LLC will not be responsible for any accidents to man or beast.
Maps